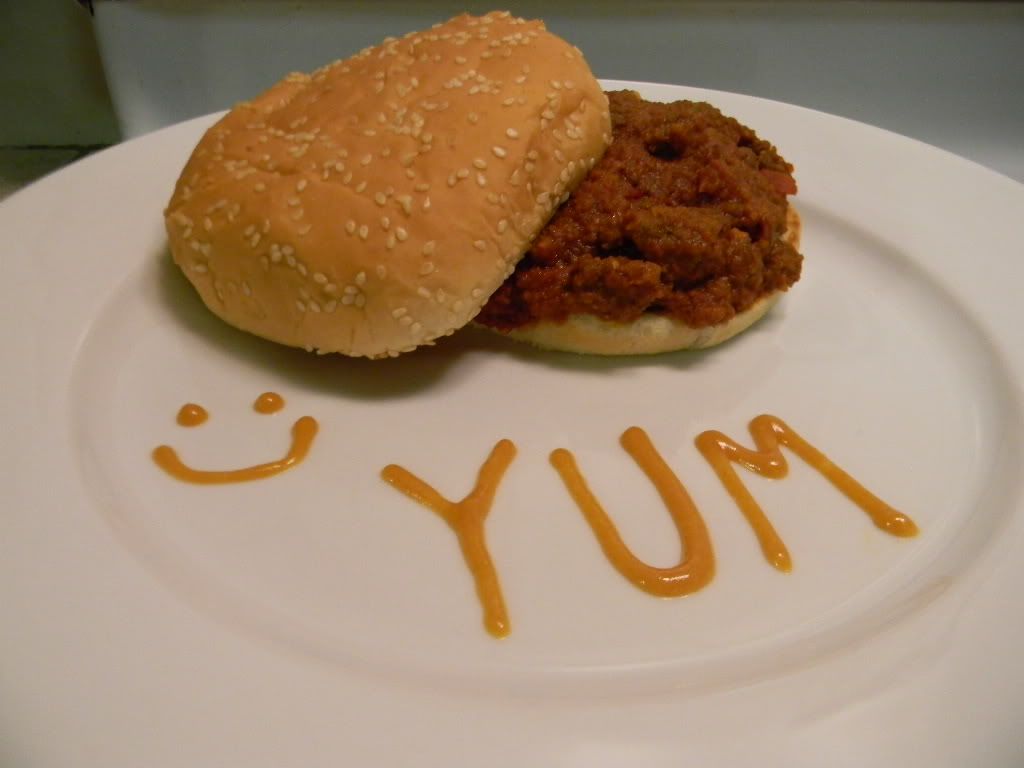 I've never been a huge fan of Sloppy Joes. Mostly because the only ones I'd ever had were as a child, when the men in my family were making them out of a can. They were bland and never looked appetizing. That and they always remind me of that Lunch lady song by Adam Sandler. Suh-lop-pee Joe, slop, Slop-pee Joe.
That was until I came across
this recipe
by the Foodie Bride. They taste nothing like typical Sloppy Joes. They have great flavor and they're packed with veggies. Hence the name "Sneaky" Joes. The Foodie Bride blended the veggies in the food processor to sneak them in on her husband. This would also be a great way to sneak veggies in, if you have kids.
I made a few adjustments like adding chorizo and using sweet hot mustard. I always end up using ground beef, because I always have a ton in the freezer. Next time, I'm going to try it with ground turkey. Either way, I promise you'll love this recipe. It smells incredible and it reheats really well for lunch the next day!
Read on for the recipe...
Somewhat Sneaky Sloppy Joes
1/2 medium onion
1 large carrot, peeled
1 large red bell pepper
1 zucchini, peeled
2 cloves of garlic
1 lb. ground beef or turkey (use 1 1/2 lb if you like lots of meat)
1/2 casing of chorizo
1 Tbsp. olive oil
2 Tbsp. chili powder
1/2 tsp. cumin
15 oz. can crushed tomatoes
1/4 cup water
1/4 cup dark brown sugar (not packed)
2 Tbsp. red wine vinegar
A couple dashes of hot sauce (I used Tapatio)
1 Tbsp. Worcestershire sauce
2 Tbsp. Sweet Hot mustard
2 Tbsp. tomato paste
Salt and Pepper
Buns (for serving)
Start by peeling the veggies and cutting them into large chunks.
Place the carrot into the food processor first (it needs a little extra time in the chopper). Pulse the carrots until they are finely chopped. Then add in the onion, garlic, zucchini and bell pepper. Pulse until the veggies are "obliterated" (in the words of the Foodie Bride), so that will blend into the meat mixture undetected. It will smell amazing, like salsa.
Cook the beef and chorizo in a large skillet. Be sure not to overcook the meat, because it will continue to cook when added to the veggies. Drain the fat from the meat, then set meat aside.
Heat olive oil in the pan over medium-high heat. Add the vegetable mixture to the pan and cook, stirring often, until most of the liquid cooks off (about 10 minutes). Add the chili powder and cumin to the veggies, stir. Now mix the meat into the veggie mixture.
Add the crushed tomatoes, water, brown sugar, vinegar, mustard, hot sauce and tomato paste to the pan. I even add some crushed red pepper, because we like it HOT. Reduce the heat to medium and cook for another 10 minutes, until heated through. Add salt and pepper to taste. Serve on toasted buns. Delicious!
Is it just me or is it extremely difficult to make a Sloppy Joe look pretty in pictures?